Karen Bill was born in Mechanicsburg, PA October 21, 1967 the youngest of four children, then moved to Fairless Hills (suburb outside NE Philadelphia) in 1969. Karen has been involved in sports since she joined boys' Little League baseball at age 10, stating there were no girls' teams to join. She lettered in four varsity sports in high school, and was a drummer in the school band.

As a member of the PA State Champion track team in 1985 at Truman High School, she was the first female to compete in the javelin, discus, and shot put events at the PA State Championships. While earning a bachelor's degree in Health Policy & Administration at Penn State, Karen was the captain of both the track and rugby teams and led the track team to win back-to-back ECAC Championships.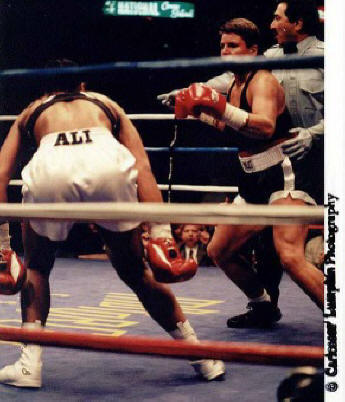 She joined the US Army in 1992 to learn physical therapy. Playing on championship basketball and slow-pitch softball teams, winning the Post racquetball tournament, and holding the Post record in the javelin, discus, and shot put Karen was named "Ft. Sill Athlete of the Year" in 1995. She competed in the 1995 World Military Games in Rome, Italy and the 1996 US Olympic Trials (for women's hammer throw) in Atlanta, GA. After receiving an Honorable Discharge from the Army in 1998, Karen began a career in home health physical therapy in Lawton, OK. She finds great satisfaction assisting homebound patients (such as victims of cancer, stroke, and motor vehicle accidents or debilitated elderly) regain strength and function to improve their quality of life.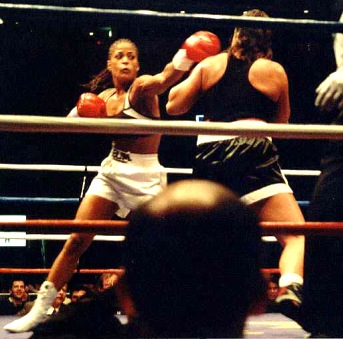 Karen started professional boxing in May 1999, stepping into the ring as a last-minute replacement to allow a female fight on the card. Coach Gill Pelletier noticed the potential and asked Karen to come to his gym and get into shape. Besides working PT 40-50 hours a week, Karen trains 5-6 days a week in the gym to go from a heavyweight taking a pounding from Keisha Snow, to light-heavyweight winning by KO over #4 ranked Buckhalter and giving a battle to IBA belt-holder Suzy Taylor, to super- middleweight sending Laila Ali to the canvas. Karen now carries a weight of 165 pounds, and trains regularly in the gym to be ready for any fight put to her!

In her last fight as a pro on September 8, 2002, she defeated Cassandra Giger, 172, in Lawton, Oklahoma. Karen, 173, defeated Giger by a four-round majority decision.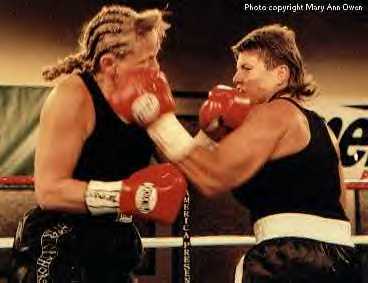 WBAN's Sue TL Fox had the opportunity to meet this exciting and entertaining boxer in July of 2000, at the Regent Hotel & Casino in Las Vegas, Nevada, when Bill fought Maria Johannson, defeating Maria by TKO in the second round. Fox was able to see first hand how talented Bill was in the sport. [Top Photo by: Sue Fox]