Baby Bear James originally came from Cheltenham, England, and at the time weighing 180 lbs., she crossed the Atlantic to become a nanny in Canada. Just two years later, and at a trim 128 lbs., she was fighting for a junior lightweight world title.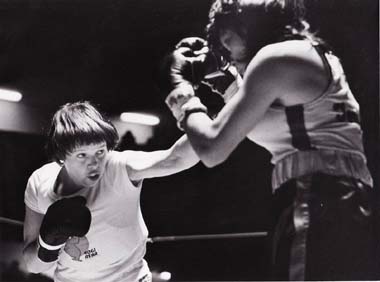 10-round (2 minute rounds) World Championship bout
January 14, 1978
At the time in 1978....Baby Bear James said, "Two years ago I'd never believed I'd be boxing today. Nobody likes to get hit, but I have the ability. I can take a punch."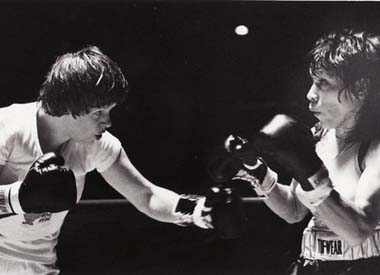 Baby Bear told WBAN, "I boxed for a couple of years, but the highlight of my career was fighting the first-ever 10-round world championship fight against Toni Lear Rodriguez on January 14, 1978, which happened to be on my 21st Birthday. " This was Baby Bear James last fight in the ring.

Baby Bear James, "I lost due to my untimely bout with Hepatitis, which I'm sad to say finished my days in the ring. I was diagnosed with hepatitis, which laid me low shortly before my fight. I was so drained by the hepatitis I had no stamina. Toni Lear was just too strong for me."
But that did not stop her participating in boxing----she then went from fighting in the ring----to becoming a boxing referee.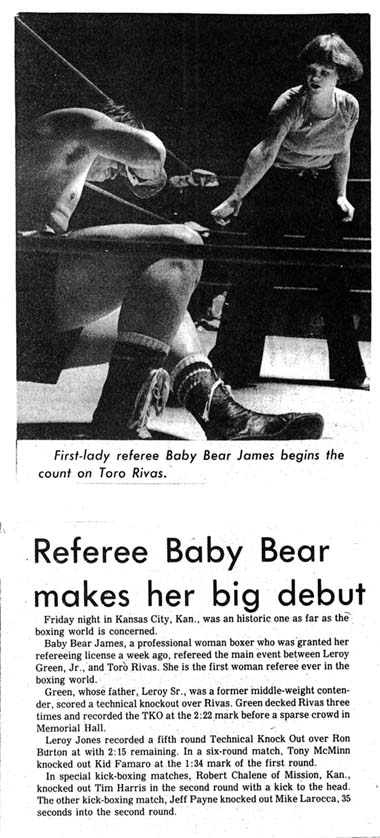 On May 6, 1978, at the Memorial Hall , in Kansas City, Kansas, Baby Bear James refereed seven boxing and kickboxing matches, that featured "Rasslin' Bear" (yes, a real bear), who was the main attraction where any one in the audience could volunteer to wrestle the bear!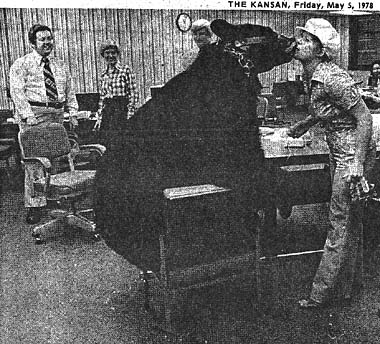 Baby Bear James told WBAN that there was quite a few of the audience who volunteered to get in the ring with the bear---but that they didn't last long!
Apparently, "Victor the bear" had a weakness for marshmallows and as long as he was getting his supply he wouldn't "sweep" you off your feet as he was trained to do. [WBAN found some youtube footage on Victor the Bear, above]

"I thought it was great publicity and as Clint Eastwood, Lee Marvin, and Tony Randall had been in the ring with Victor, I was in good company-----As long as I fed him his sweets he knew not to wrestle me," added Baby Bear James with a slight chuckle.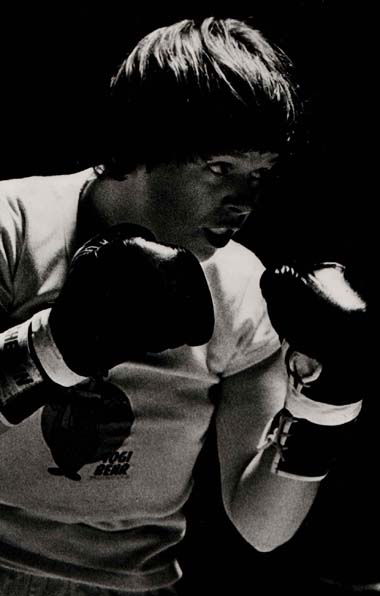 Baby Bear talked about her past fights with WBAN, and said the following:

"I fought my first four bouts every three to four months starting with Genevieve Thibault in January 1976 at Granby in Montreal Quebec Canada. My next opponent was Elizabeth Lefebvre in March and Marie-Francoise in July followed by Louise Guyana in October. I won these four fights by knockout, but none of these fights, I'm sad to say had any real media attention."

To my knowledge I didn't think the fights were sanctioned, and maybe looked upon as exhibitions, and I don't remember them being well received by the media or the local public.

It wasn't until Albert Ladoueur, a sports writer for the Montreal Matin came to the gym where I was training, that things changed for me.

He watched me sparring with a male featherweight, and at first he was a doubting Thomas as far as women boxers were concerned. I invited him to have a sparring session, and after a couple of right hands I won his respect.

He attended my fifth fight at Granby, in December 1976 where I fought Diana Mary Brown. I was told she was a novice but she moved like Ali and hit me from all angle's with her great combinations so I had my doubts.

The four round fight ended as a draw, and I was later told she was Gwen Gemini, but that was never confirmed.
I often wondered if the names of my other opponents were who they said they were. I now had the press on my side thanks to this fight with Diana, as Albert gave us a great write-up.

Then I went to Las Vegas in January 1977, and I fought Aggie Henry in a four round fight. I lost on points.

My next opponent was Joanne Gilmore from the USA, and we had also fought back in Granby Montreal Canada in July 1977. I won by TKO. [Documentation of fight]

Then I fought the title fight against Toni Lear Rodriguez, on January 14, 1978 , and as I said, I got a bout with Hepatitis, which I'm sad to say finished my days in the ring.

One of the high points though was getting the opportunity to train for the fight at Muhammad Ali's gym and meeting him and his legendary trainer Angelo Dundee.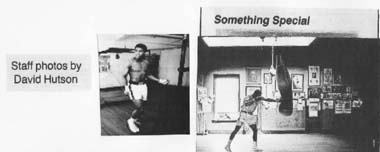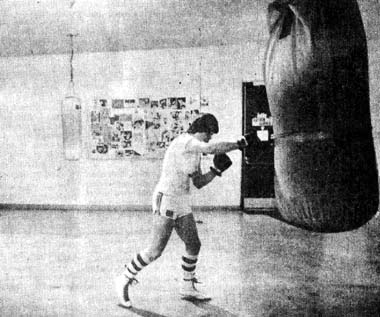 OTHER HIGHLIGHTS:

On March 17, 1978, Baby Bear James made her debut as a boxing referee, and the first card she refereed at was in Kansas City, Kansas.
AUDIO LINKS TO BABY BEAR JAMES
Radio Interview #1 - 1979
Radio Interview #2 - 1978
Photo of Jerry Morales, the Chief Referee in Kansas
Baby Bear said that Morales was her mentor...