The WBAN Patches have become very popular with the amateur and professional female boxers and we are seeing them worn as a "Badge of Honor" on boxing attire of many of the female boxers.

FREE to TOP TEN: We also give ONE WBAN Patch to the female boxers who made it in our TOP TEN World ratings. Email us if you are in our top ratings, and we will mail you a patch. The WBAN Patch is very high quality, that is beautifully embroidered.

We recently just gave away 25 FREE WBAN Patches, when we had a free WBAN Patch Give-Away to celebrate our 15 years on the Net.

If the boxing community and boxers would like additional WBAN Patches, we have them available for purchase.
[To purchase WBAN Patches]
Patches are $6.00 that includes the shipping and Handling.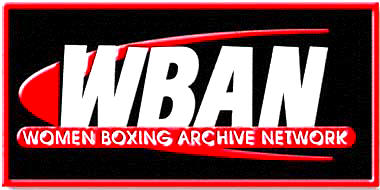 Cool WBAN Patch Album
on Facebook!

We also will send a Free WBAN Patch to Female boxers who are veterans, retired, or are boxers who have displayed exemplary courage in the sport to take difficult fights, but are not in our ratings.
[Top photo: Courtesy photo of Multi-world champion Amanda Serrano]