Boxing is an exciting, fast-paced sport that does nothing short of knockout the crowd. Any good gambler will tell you that if you want to make any real profit in sport gambling, you have to follow the fans. The more fans a sport has, the more profit potential in betting.
This can be related to business. For instance, you wouldn't set up your new business in a part of town with a notoriously low average income would you? Of course not! You also wouldn't do it in a town with a tiny population. So following the fandom is a good rule of thumb, but honestly, that is an amateur assessment.
The Professional Edge
A good gambler would tell you to follow the fans. A great gambler looks for the untapped potential and anticipates an explosion of fandom. Why is this important? Well, while it is good business to set up shop in a neighborhood with a high income and healthy population, often the problem is that you aren't the only one who wants a business in the area.
Competition becomes stiff in these highly valued areas, so much so that it doesn't really make sense to set up for example, a new restaurant in an area that already has 20 well-established restaurants that have been there taking up the community. That is why a good businessman and gambler, look for the undiscovered area with a lot of potential. For the sports better, that is women's boxing.
Why Women's Boxing
Men's boxing is well-established, and all of the real estate taken up. Women's boxing though is just starting to catch however. Increasing coverage on big names like Claressa Shields and Katie Taylor are showing just how much hype and fandom female boxing can generate.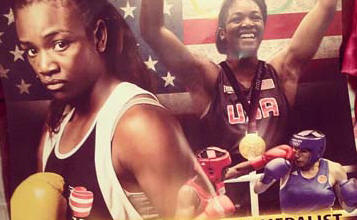 Claressa Shields Photo: Courtesy/poster
If you are unconvinced, just look at the recent rise of Ronda Rousey. The world is not only ready, but eager for women's boxing heroes. Just look at the popularity of "Million Dollar Baby", an Oscar winning movie about, you guessed it, a female boxer.
Fresh Fish
Women's boxing is about to be flooded with a whole new fandom. These fresh fish will bring in millions of dollars with them, all eager to bet on their girl. That is why well-established gamblers are coming from all over to start fishing for some new opportunity. To see where some are flocking from, check this list.
The Angler
The seasoned angler or even the poised new comer can study up and learn all the facts about the already established women's boxing league. Then when this new massive fandom emerged, reap the rewards of their hard work.
With patience and good resources for statistics, there is a lot of potential for big profit. That is why the good gamblers are already reading up on the women's boxing league, looking for insider information.
Because when the time comes and the great migration occurs, it will be the bears already waiting upstream that get to fatten themselves up with the plentiful profit.