(FEB 26) In an epic combat, that maintained the attendants at the edge of their seats that were present last night at the Olympic Coliseum of the University of Guadalajara, Monterrey's Arely "Ametralladora" Mucino recovered her condition as world champion after defeating San Francisco, California's Melissa "Mighty" McMorrow with a 10-round split decision.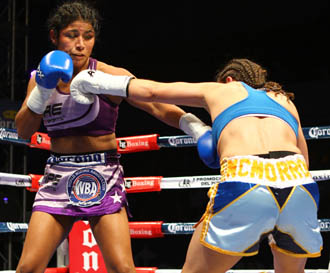 Arely and Melissa did not hesitate for a moment when they stepped into the ring and from the very beginning were throwing a barrage of combinations that made the fight very exciting for boxing fans.
McMorrow throughout the fight continued to press the action and Muciño tried her best to push Melissa out with counter punches, succeeding at times and making Melissa stop in her tracks. Arely went to the body effectively as she had Melissa in trouble at the end of the eight round.

Visibly exhausted, both fighters never stopped throwing punches, reaching big numbers in the last two rounds, in my opinion, Arely getting the best part.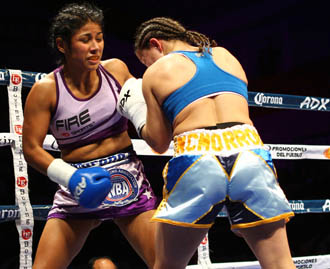 At the end of the fight the judges scored the fight 93-97 (McMorrow), and 98-92 and 97-93 in favor of Muciño, getting the win and with that the distinction f of being a world champion for the second time in her career, this time as the new Interim WBA flyweight title.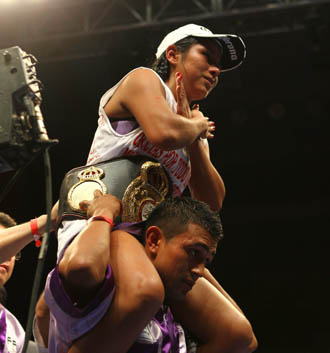 # # # # # # # #
Pre-fight report - February 25, 2012
Mucino and McMorrow ready for Saturday night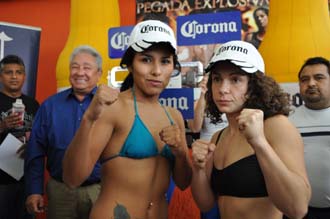 In one of the mainliners on Saturday's card, Arely "Ametralladora" Muciño from Monterrey, Mexico and Melissa McMorrow from San Francisco, USA, are ready to fight for the title.

Muciño has nothing in her mind but to be a world champion again, she wants and dreams to have in her possession again the belt she unexpectedly lost last year. This time it will be for the WBA Interim Flyweight title.

"The time is approaching and I am ready to give my all, I want to be a champion and that's the only thing I can think about, the only thing I dream about and the only thing I will keep craving when on the mat", Arely commented.

Muciño and McMorrow registered the same weight at 50 kilos with 900 grams, and with that the fight is ready.

Melissa is no pushover as her last fights have been against some of the top female boxers, Eileen Olszewski and Keisher McLeod-Wells, and is expected to give Muciño a run for her money in her home country.